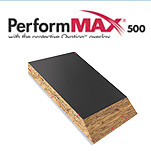 INTRODUCING HUBER PerformMAX 500 Flooring
We now are including Standard with all of our Newly Built Sheds a Man Made Flooring called PerformMAX 500 made by Huber Industrial.
This is a Man-Made Composite Resin Material like our LP Smart-Siding but made with Floor Strength in mind to handle Top Load Weight.
They are a Resin Impregnated Heat Treated Product for Years of Service in our Buildings. We have been Testing these Floors throughout the South for a few years now and have Finally Made them Standard Across all of our Territories for all of our Sheds.
They come with a 25 year Limited Warranty against Rot and Termites. These Floor Boards are Man Made Completely Flat so No Bows like Traditional PT Plywood, More Solid Feel Underfeet.
They are Tongue and Groove for Better (Thinner) Seams, Better Sealed from the Outside. There are No Knots and Bad Areas like PT Plywood, So Less Waste.
Better for the Environment.
Better for US and Best of All Better for Our Customers. Check out Huber's Link Below:
INTRODUCING URETHANE AND METAL SKINNED SHEDS
We now Offer Urethane Coating as well as Galvalume Clad Sheds at No Extra Charge.
T111 Board/Veneer Separation Facts:
Our Competitors are saying that our grooves are deeper in our boards than theirs, and that this leads to outer Veneer/Board Separation.
This is not a completely accurate statement.
Here is the Whole Truth.
Yes we have deeper grooves but this does not lead to separation. Having any groove, no matter what the groove depth is, can lead to board separation and only if the board is defective. Water penetrates along the edge of the groove and breaks down the faulty glue which leads to separation. No Matter what the groove depth is on a board if the board is defective it will separate, including our competitors products. All T111 has the same thickness of Veneer, but if the glue used is faulty or the Veneer is not correctly applied then you will see Veneer/Board separation. We strive to make sure our boards are not defective, when received from our suppliers. We also have a 5year Front to Back Warranty which covers the T111 Panels as well as the Labor on buildings.

Contact

information
+1 (352) 796 - 4666
7154 Broad Street
Brooksville, Fl 34601
Mo - Fri 9am to 5pm, Sat by Apt Only for

Purchases.
© Copyright WeatherKing Portable Buildings Dealer of Brooksville, Florida